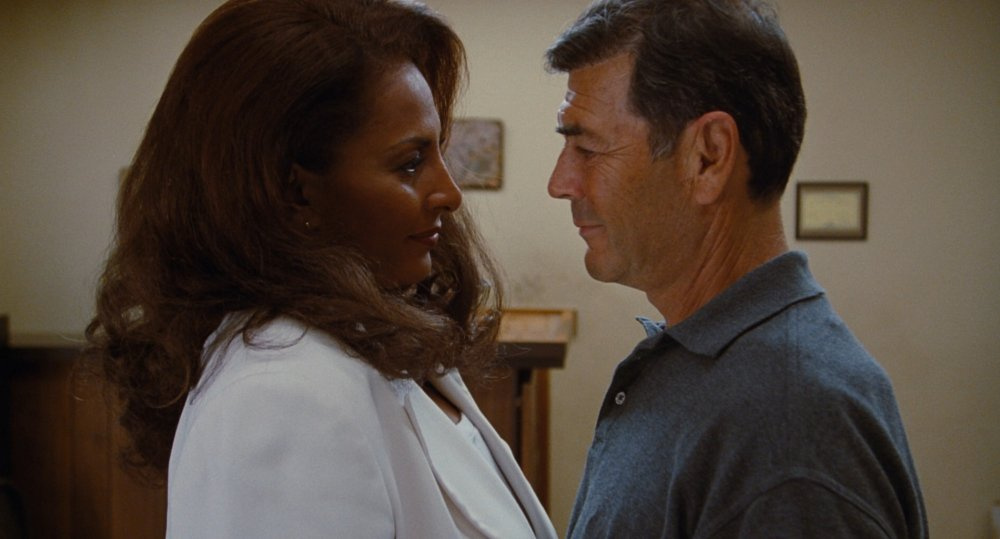 Max Cherry (Robert Forster) and Jackie Brown (Pam Grier) only share a handful of scenes in the movie bearing her name, but those moments cast a shadow over the entirety of this story. When Jackie gets into trouble carrying Ordell Robie's (Samuel L. Jackson) money he got from selling illegal firearms across the border she's sent to jail. Max is a bail-bondsman hired by Ordell to help get Jackie out of prison. Max probably thinks this is going to be just another job, but what he doesn't expect, what no one can really ready themselves for, is seeing someone and hearing music. People talk a lot about "butterflies" when they see someone they fall for, but in movies that shit is always soundtracked, and when Max sees Jackie he hears "Natural High" by Bloodstone. Jackie's silhouetted in a wide shot. She's got broad shoulders, gorgeous hair, and killer legs that run down into a comfortable flats that click on the concrete. It's the only sound that can be heard other than a guitar plucking an orange note that's practically visible across the screen. The song is warm and signals to us that this love is immediate, classic, and perfect. Jackie keeps walking closer to Max, and he's stuck right there, dead in his tracks. There's a cutting back and forth and he just keeps looking at this woman he just fell in love with. Robert Forster plays it cool, knowing he has a job to do, but if you pay attention to his eyes you can see he's weak in the knees for Jackie Brown. When she's finally right there at the front gate he introduces himself, and she to him. The song keeps playing. Might as well keep playing through the rest of the movie. There's a heist to pull off, and government agents to hoodwink, but all of that is icing on the cake when you've got a scene like this one.  
Max and Jackie don't really know they're living through a perfect night they'll remember forever. None of us really realize those moments are happening, until you've got the context to understand what happened was important. There's a small tragedy in not knowing what you've got when you have it, but that too makes the memory all the better. When Jackie gets in the car the camera hovers a bit around her facial features. We're looking at her through Max's eyes and it's the easiest thing in the world to fall for this woman. She pushes her hair behind her ears and her cheekbones pop. It's the kind of close-up that would leave you breathless if you saw it on the gigantic screens of a multiplex, but even at home it does the job nicely. The movie wouldn't work if Max and Jackie's romance didn't feel real, and while Jackie takes a bit longer to fall for Max, and doesn't even realize she's in love until she's riding off into the sunset, decked out in the latest fashion with a killer soundtrack blasting behind her, Max loves her immediately. The soundtrack tells us this. Quentin Tarantino always underlines with whatever music cue he introduces into the story and "Natural High" can only ever evoke love.
 The night goes on as they drive on by. Max could take her home, but they're having an easy enough conversation getting to know each other while looking for some place to get a drink. It'd be kind of like a date if Jackie didn't rightfully have her defences up, but even those eventually slip away. Everything does when you're really falling for someone. Nothing else is important. Only the vulnerability it takes to give yourself over to what could be something special. Our bodies end up knowing before our heads do. Max and Jackie make all the excuses in the world to stay together on this night and later that morning. They get a drink, they have a cup of coffee, they talk about music. Anything just to keep talking to one another, and it's perfect for Quentin Tarantino, because he likes nothing more than writing scenes where characters just talk. Max smiles when Jackie finally suggests a place to get a drink, because he knows the night won't end in that moment. It'll keep rolling forward with perfect harmony, where two people can be the whole world. Quentin's got to get across a lot of exposition and move the plot forward in this conversation over a drink and a smoke, but there's an easyness to the way Grier and Forster converse that makes it feel natural. They talk about gaining or losing weight while smoking cigs and anxieties about their own jobs inbetween the business of dead bodies and jail time and all of it feels just as romantic as that initial encounter. The red light from the bar is like a cocoon for them, a warm place where they can talk about anything with comfort, and as an audience it's easy to fall in love with the way they speak to one another, the way they trade glances or sit in silence. Max and Jackie are tied together from this point forward. We know it, even if they don't.  
What Max doesn't know when he finally drops Jackie off at her house is that she took his gun out of the glove compartment to protect herself from Ordell, But more important than protection, it gives him an excuse to go see her again, and she knows that too. Two birds. One stone. That morning they have a drink again: this time coffee, and like last time they just talk. Jackie puts on some music and they go back and forth just like last night, the only difference being the topics at hand. She plays The Delfonics and Max likes the music. The camera frames Jackie lighting a cigarette as the music starts up, underlining once again through song that Max loves her. My favourite conversation in the movie revolves around aging. Jackie asks Max how he feels about getting old and he says he feels okay about it. He was losing his hair at one point, but he did something about it and now he's comfortable, but the question was a huge smoke-screen for Jackie to open up about a bigger topic: her own fear. With this arrest hanging over head she's afraid she's going to lose everything and she ain't got much to begin with. Max listens. He really listens. The image cuts back to him multiple times during Jackie's conversation just hearing her. He may not realize it, but that's all she needs right now. She's made her mind up on what she's going to do about the government and Ordell hanging over her head, and she just needs him to hear her speak, and tell her that he'll be there for her. He does as much with a little bit of flirting thrown in for good measure. Partners in crime. Partners in love.  
Later there's a scene where Max buys a Delfonics cassette. In day to day life we make memories through song. When couples dance at their wedding they tend to have a song picked out, because it has greater weight or meaning for the people in question. No one else at the wedding needs to know the context of this song or how it got to be important. These things just happen organically. For Max he'll never be able to listen to the Delfonics the same way again. They'll always be Jackie Brown, and for me, Jackie Brown will always be the relationship these two characters had.